Are you a WordPress website owner concerned about protecting your content from unauthorized access or copying? Or are you looking for ways to increase traffic and sales on your site? If so, this blog post is for you.
In this article, we will be discussing the 6 best WordPress content protection plugins of 2023, both free and pro versions. We'll be providing you with valuable information on each plugin, including its features, prices, and user reviews, to help you make an informed decision on which one to choose.
In this starting section of the article, we'll be introducing you to the importance of content protection and how it can benefit your website.
We'll also provide some background on the topic and discuss why using these plugins is crucial for your WordPress site's security and success.
So let's dive in and explore the world of WordPress content protection plugins together!
Title: Most Complete Content Protector Plugin for WordPress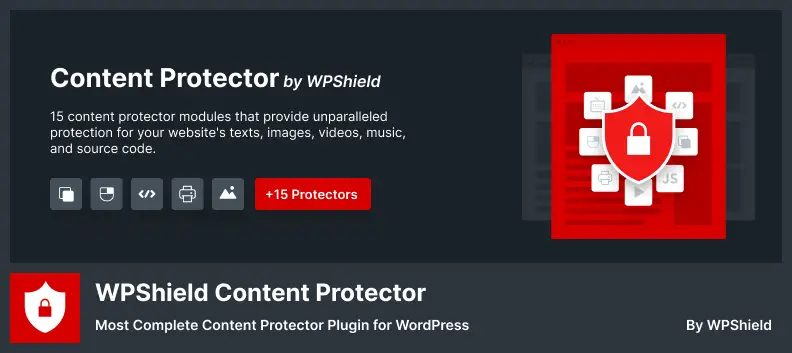 WPShield Content Protector is the best WordPress content protection plugin that protects your valuable content on your website. Its 15 built-in content protectors keep all types of content from being stolen, from text to video, audio, and source codes.
This plugin has the option to disable right-click menu items, including save as, view source code, and inspect element, preventing unauthorized copying.
What makes WPShield Content Protector unique is its capability to disable inspect elements system, which is a tool for bypassing content protectors. If a developer tool is opened, this plugin automatically clears the site content to prevent any copy of your site content, making it impossible for anyone to steal your content.
Another feature of this plugin is protecting your videos from illegal downloads by simplifying the video player. It eliminates the download button and hides the URL of the video file location, keeping your videos safe and unique on the internet.
Additionally, it prevents site content from being printed in all available ways, but still, users can use print with a watermark added to the print content.
WPShield Content Protector's website offers comprehensive step-by-step documentation making it easy to set up and protect your website's valuable content. It is an excellent choice for WordPress website owners looking for a reliable way to protect their content.
Overall, WPShield Content Protector is an outstanding plugin that provides robust protection for your content, making it impossible for thieves to steal your hard work.
Key Features:
It is a comprehensive plugin that offers 15 protectors to safeguard all formats of content on your WordPress website.
This plugin is compatible with any theme and plugin for WordPress, allowing for seamless integration into your site.
Prevents spammers from using iFrames to steal your traffic or create security issues by blocking other sites from loading your images, videos, and audio within iFrames.
Comes with comprehensive step-by-step documentation that can assist you in setting up and protecting your site's content.
No longer need to use multiple plugins to secure your site, as it offers complete protection for all types of content in one comprehensive package.
The plugin offers a user-friendly interface that makes it easy to navigate and configure, even for users with minimal technical expertise.
Random Reviews:
I use this photo protector for my photography and it kept all my photos from being downloaded. In the first week after I started using it, I received many emails from bloggers asking for image files, when I had not received even one email for a year before.

I tried many content protections and all of them have lack of features but it does a great job and brings protection on the top level. There may be other plugins that offer similar functionality, but I have found that this plugin is the only one that disables the developer's tools and CTRL+SHIFT+C completely
A Plugin Aimed At Protecting Web Content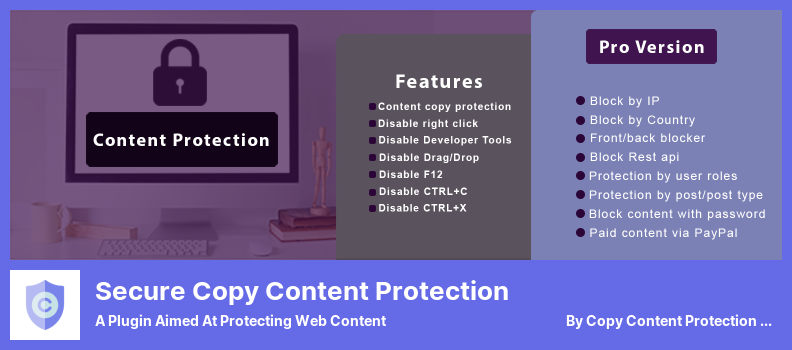 Secure Copy Content Protection is an excellent WordPress plugin that can help website owners protect their website content from unauthorized copying. This plugin comes packed with a host of features, making it an ideal solution for those who want to secure their content.
This anti-copy paste WordPress plugin automatically disables right-clicking, copy and paste, and copy shortcut keys, preventing anyone from copying your content. The plugin also includes content locking, allowing you to choose and lock specific sections of your content by using a password. Visitors can access the locked content by entering the password.
Another useful feature of this plugin is that it allows restricted content to be displayed for a specified time only. This feature ensures that your visitors have adequate time to view the content, but it disappears after the set period.
Key Features:
Ensures that inspect elements are disabled
Compatible with MailChimp
Content Locking feature
Blocks the right-click
You can disable copy paste functionality of the keyboard
Provides You Security for WordPress Website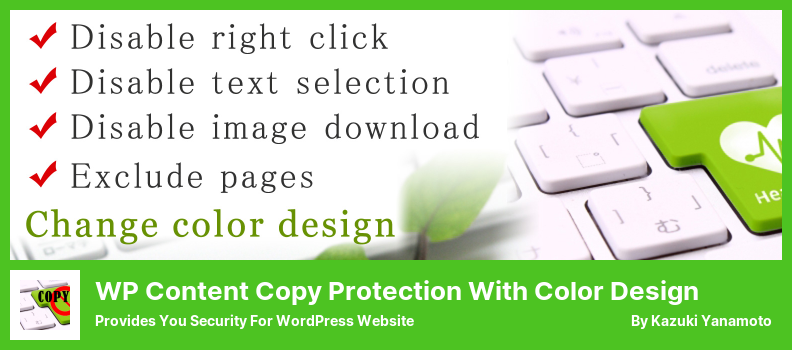 WP Content Copy Protection with Color Design is a powerful WordPress plugin that helps safeguard your website's content and images from unauthorized copying. This user-friendly plugin comes with an intuitive design and easy-to-use interface that makes it accessible to anyone.
One of the plugin's most notable features is its ability to disable keyboard shortcuts such as CTRL+C, CTRL+A, CTRL+X, CTRL+V, and CTRL+P. It also allows you to hide or display the content text selection when dragging and dropping images. Moreover, you can exclude specific posts and pages from the list for logged-in users.
Another impressive feature of WP Content Copy Protection with Color Design is the alert message that pops up whenever a visitor tries to right-click on your site's content to copy it. The color of the alert window can be customized to match your website's color palette, ensuring that it blends in seamlessly.
Lastly, this lightweight plugin has minimal impact on your website's loading speed, making it an excellent choice for those who value performance.
Key Features:
Option to disable the protection for logged-in users
Hide and show an alert message
Protection for particular pages
Limiting text selection, image drag and drop, and keyboard shortcuts
You can disable the right-click option
A Password Protection Plugin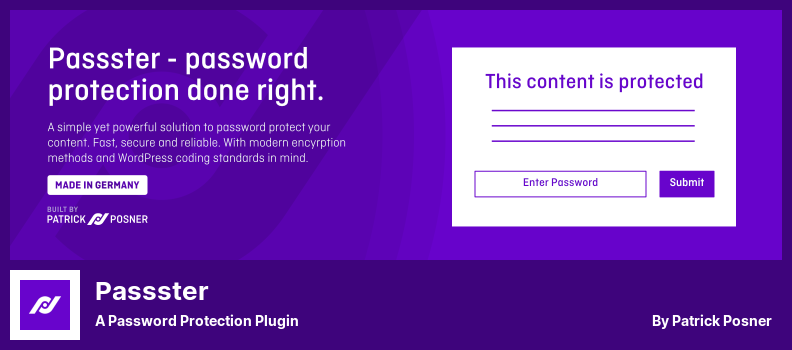 Passster is a WordPress plugin designed to provide comprehensive content protection for your website. This powerful tool can help you protect all of your content and your site itself with ease, thanks to its flexibility and user-friendly design.
One of the key features of Passster is its ability to protect individual pages and posts using simple shortcodes. You can easily specify the location of the protector to ensure that your content remains secure at all times. Additionally, you have the option of protecting entire pages without the use of shortcodes.
Passster works seamlessly with many popular page builders, including Elementor, Divi, Gutenberg, Beaver Builder, and more, so you won't have to worry about compatibility issues when adding this plugin to your site.
Another great feature of Passster is its support for password authentication. With this option, you can define a password for registered visitors to your site, ensuring that only authorized users can access your protected content. If a visitor is not authenticated, they will be redirected to a specific page.
The plugin also includes advanced features like Google reCAPTCHA for added protection, automated unlocking of content based on a user's role, encrypted links, and much more. Overall, Passster is an excellent choice for anyone looking to enhance the security of their WordPress site.
Key Features:
Google ReCaptcha for protection
Single password for unlocking the content
Restrict specific pages or the entire website
You can use several passwords
Protect particular content areas using shortcode
You can unlock content with encrypted links
A Simple, Yet Effective Plugin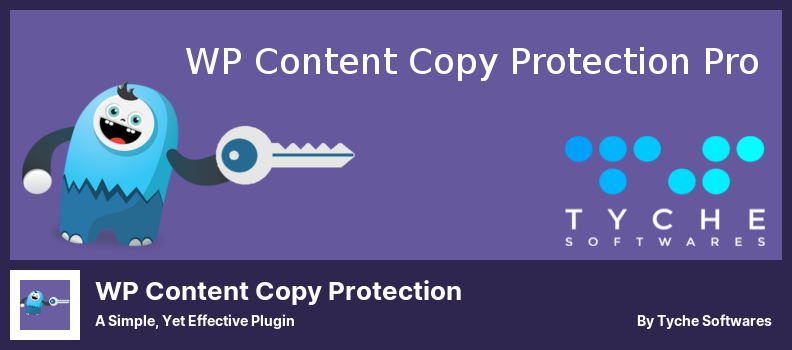 WP Content Copy Protection is a plugin that provides an easy way to safeguard your website's content. This plugin offers several techniques to protect your text, images, audio, and video files from being copied or downloaded from your site without permission.
By disabling right-click and keyboard shortcuts, this plugin prevents visitors from copying your content quickly. It also allows you to save your audio and video files by disabling the right-click and save function, which is automatically enabled when embedding videos or audio.
What's more, WP Content Copy Protection ensures that your content is visible to search engines for better SEO while protecting it from unauthorized use. If someone tries to steal your content, this plugin can display an error message to them.
It's essential to note that videos cannot be protected from being downloaded or copied from the URL at this time. Nonetheless, this plugin is an excellent option for bloggers and online store owners who are serious about protecting their content.
Key Features:
Disable right-click on the WordPress context menu.
You can exclude specific pages, posts, and categories
Deactivate keyboard controls
Prevents content selection
Basic image protection is provided
Optimized for search engines
Protect The Text and Images in Your WordPress Site

Smart Content Protector is a powerful WordPress plugin that provides automated protection for your site's content. With this plugin installed, you can prevent others from stealing your text and images, making it an excellent choice for anyone concerned about website security.
One standout feature of Smart Content Protector is its ability to watermark images, which makes it much more difficult for potential thieves to use or reproduce your content without your permission. This plugin also prevents users from dragging images and offers a responsive lightbox to registered users who want to view them.
In addition to these protective features, Smart Content Protector allows you to create custom content protection pages for individual posts or all articles on your site. It also restricts shortcut keys and disables javascript in web browsers to prevent unauthorized access.
Key Features:
There are numerous image and text protection methods
Alert message on right-click is provided
Text highlight option
You can disable keyboard shortcuts
Images are no longer able to be dragged or linked
You can exclude specific posts and pages from the protection
Conclusion
In conclusion, we have discussed the top 6 WordPress content protection plugins for 2023. These plugins can help you safeguard your website content and prevent unauthorized access to it. You can choose from both free and pro options based on your needs and budget.
Please let me know if you have any questions. Just leave a comment. If you like this list, please follow us on Facebook and Twitter to hear about our newest articles.
Thank you for taking the time to read our article. We hope you found it informative and useful in improving your website's security.
If you have any questions or face any issues while implementing these plugins, please feel free to ask us in the comments section below.
We would be glad to assist you in any way we can.