Do you want to get a backup of Content Protector's settings? Are you trying to use the same setting on several websites for Content Protector?
WP Shield Content Protector offers an export and import option you can use to get a backup of the plugin's settings.
How to Export & Import Content Protector Settings?
Go to WP Shield → Content Protector → Backup & Restore, and you have two options:
Backup / Export
Restore / Import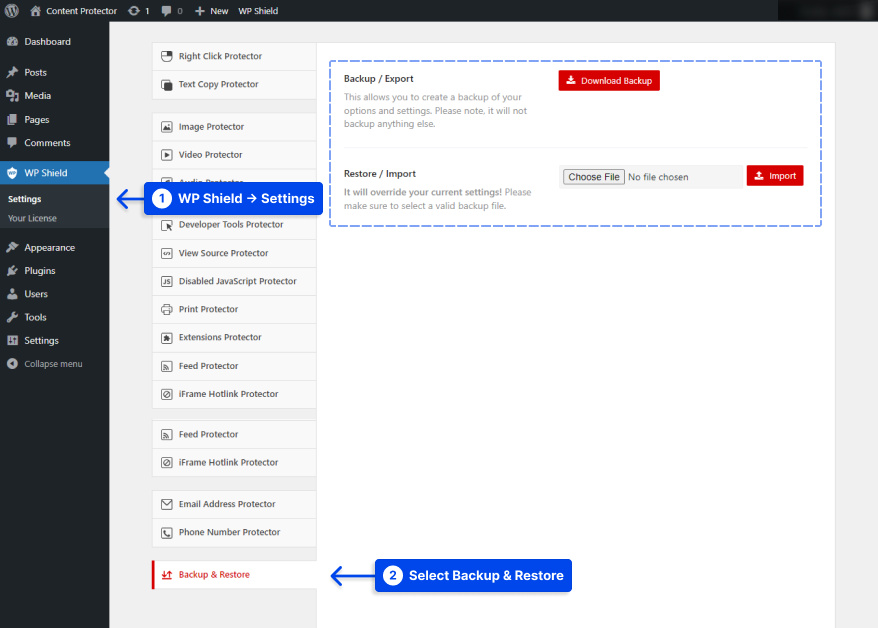 How to Export the Content Protector's Settings?
Use the Backup / Export button to download the existing settings of the plugin. You can use this file to import the plugin's settings anytime.
Press the Download Backup button to save the backup file to your computer.

How to Import the Downloaded Content protector's Setting?
Use the Restore / Import option to import the downloaded setting file to your plugin. You can upload any backup file of the plugin to bring back its settings.
Press the Choose File button, select a backup file from your device, and then press Import.