The WPShield Content Protector is the ultimate content protection tool created to protect content in any format from copying.
The plugin includes 15 different content protectors that allow you to protect all types of content in an advanced manner. This technology ensures your site's content will be unique across the internet.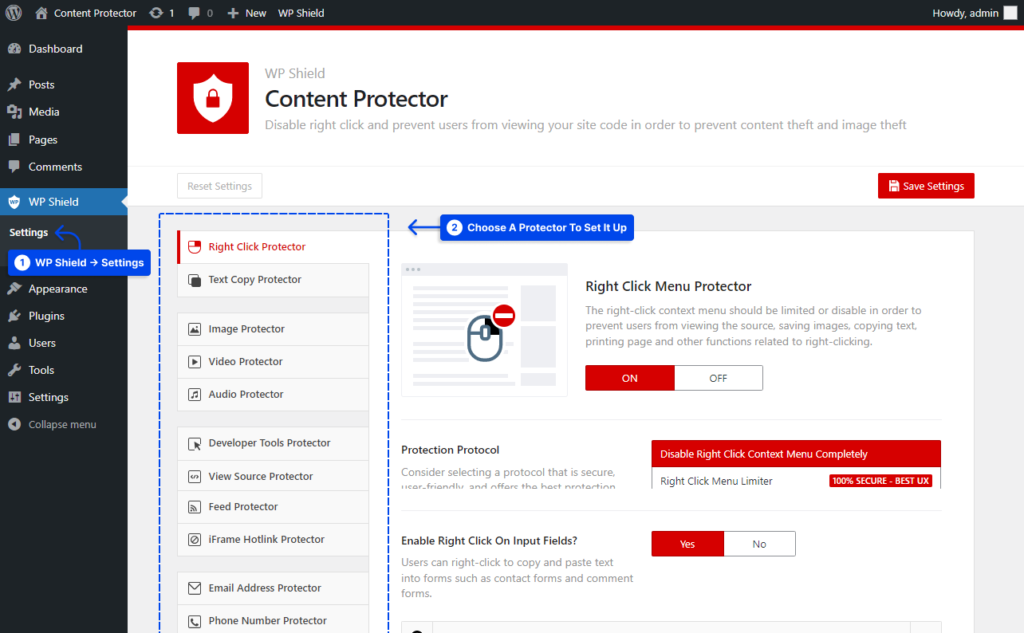 15 Protectors of WP Shield Content Protector
WPShield Content Protector consists of 16 protectors, all of which are listed below, along with a brief introduction and links to detailed instructions for use.
1- Right Click Menu Protector: This protector lets you disable the right-click function or even limit the right-click menu. You can enable it by turning on the Right Click Protector.
2- Right Click Menu Limiter: This is a protector that we merged inside the Right Click Menu Protector as a Protection Protocol to make it easier to use. It's a unique feature that does not disable right click menu but disables items like view page source!
3- Content Copy Protector: By turning on the Content Copy Protector, you can make sure that no one can copy your site text content.
4- Images Download Protector: Images are a big target for thieves, and you can secure them and disable all ways of downloading images by enabling the Image Protector.
5- Videos Download Protector: If you want to protect all the videos on your website, simply turn on the Video Protector.
6- Music Download Protector: If you want to ensure no one can download the music and audio posted on your website, turn on the Audio Protector.
7- Developer Tools Protector: Developer Tools or Inspect Elements is the advanced tool that developers can use to copy your content and access your site source code. Still, by using this protector, visitors can not use Developer Tools on your site.
8- IDM Protector: In Windows, Internet Download Manager (IDM) is the most advanced download manager that users can easily use to download videos and audio files. But this protector prevents users from using it on your website and secures your videos, audio, and all files from being downloaded.
9- View Source Protector: People can see all the data and content you protect using source code, so secure it by enabling the View Source Protector.
10- Disabled JavaScrpt Protector: Some might try to disable the JavaScript to work around the other protectors; this is why you need to protect it by enabling the Disabled JavaScript Protector that won't let users access your site if the JavaScript was disabled on their browser.
11- Print Protector: Printing content is a common way to use content, especially texts. You can secure it by enabling the Print Protector.
12- Copy Enabler Extension Protector: Some might try extensions to copy the content, but since we thought everything through, Our content protector disables the extensions! You can turn the the Extension Protector on for this. 
13- Feeds Protector:  Some websites use auto blogging plugins to use other websites' posts as theirs without lifting a finger with feeds. You can disable feeds or limit them by enabling the Feed Protector.
14- iFrame Hotlink Protector:  iFrame Protector ensures that no request with your post and page links is loaded outside of your website. This option blocks all iFrame hotlink requests. 
15- Email Address Protector: crawlers always are looking for more victims to spam on websites, and the best way is to find email addresses. You can misdirect and confuse them by turning on the Email Address Protector.
16- Phone Number Protector: If you want to ensure the phone number you put on your website is safe from spam, turn on the Phone Number Protector.