Are content thieves disabling JavaScript to copy your content? Have you tried many protector plugins but when javascript is disabled they don't work? 
You can use the WP Shield Content Protector option that allows you to protect your website once the javascript is disabled.
Why is it Necessary to Protect Website When JavaScript is Disabled?
All WordPress content protectors (except WPShield Content Protector) use JavaScript to protect content. Still, skilled users know that and they try to disable the JavaScript and bypass the content protectors.
WPShield Content Protector has an Exclusive and Unique mechanism that detects your site even from these skilled users. You can use this protector to prevent visitors from stealing your content.
How to Protect Site Content If JavaScript is Disabled?
Go to WP Shield → Content Protector → Disabled JavaScript Protector and enable Disabled JavaScript Protector. Then you can choose the protection protocol you want:
Show Simple Notice Message: You can show a message when javascript is disabled.
Clear Page Content + Show Notice Message: this option clears the page's content and shows a custom message to the user.
Redirect User To Another Page: This option redirects the user to your chosen page.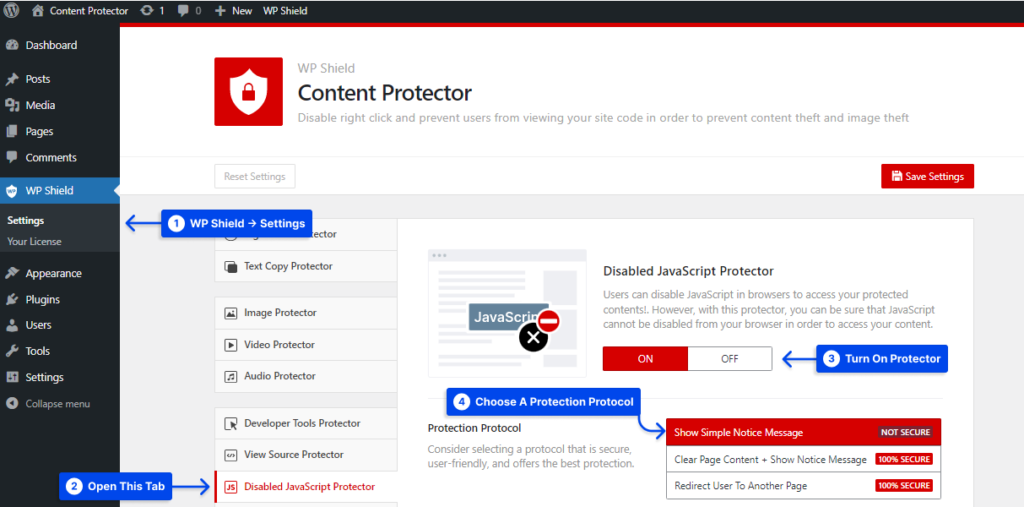 How to Show a Notice When JavaScript is Disabled On a Website?
When JavaScript is disabled, you can ask the user to turn it back on so they can continue using your website.
You can enable it by choosing Show Simple Notice Message in Protection Protocol.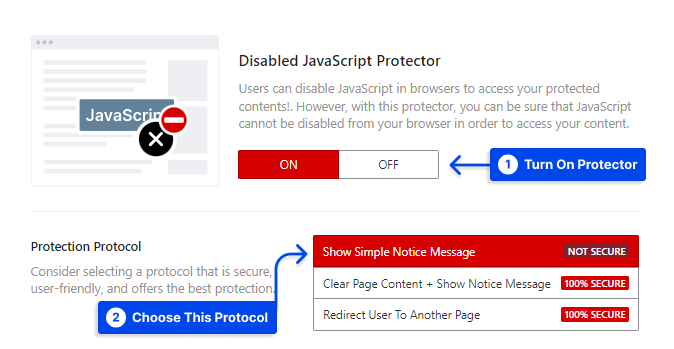 Please note by using this protocol, users can disable JavaScript and copy your site content easily. You have to use other protection protocols if you want to protect your site content while if JavaScript is disabled.
How to Clear Page Content When JavaScript is Disabled?
If you want the viewer to have to disable JavaScript to see your website, choose Clear Page Content + Show Notice Message. It will clear all the content and shows a notification message to users.
They can not copy your content, which will be safe using this protocol.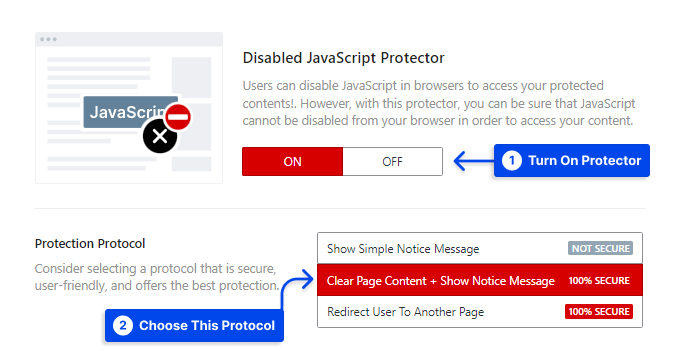 How to Redirect User to Another Page When JavaScript is Disabled?
Suppose you choose Redirect User To Another Page in Protection Protocol. In that case, you can select a custom page from Redirect To Page.