Are you tired of the spam you receive on your email? Are you scared that your website users' emails are getting spam?
WP Shield Content Protector can ensure that your email addresses are safe and that no bot or crawler can find them on your site.
Why is it Necessary to Protect Email Addresses on a Website?
Since many spammers and bots just want to get people's email addresses in order to spam them, you must find a way to display your email on your website without making it accessible to bots or crawlers.
In this manner, your site will function as intended, but crawlers will be unable to locate your email addresses, so they can not add them to their spam-busting databases.
How to Protect Email Addresses on a Website?
You can simply hide the email from bots on WP Shield → Content Protector → Email Address Protector.
Enable Email Address Protector, and you can choose the protocol you want on Protection Protocol:
Convert Emails Characters Encoding: This option changes the email into the encoded characters.
Obfuscate and Make Emails Invisible for Crawlers: This option hides the email address for bots.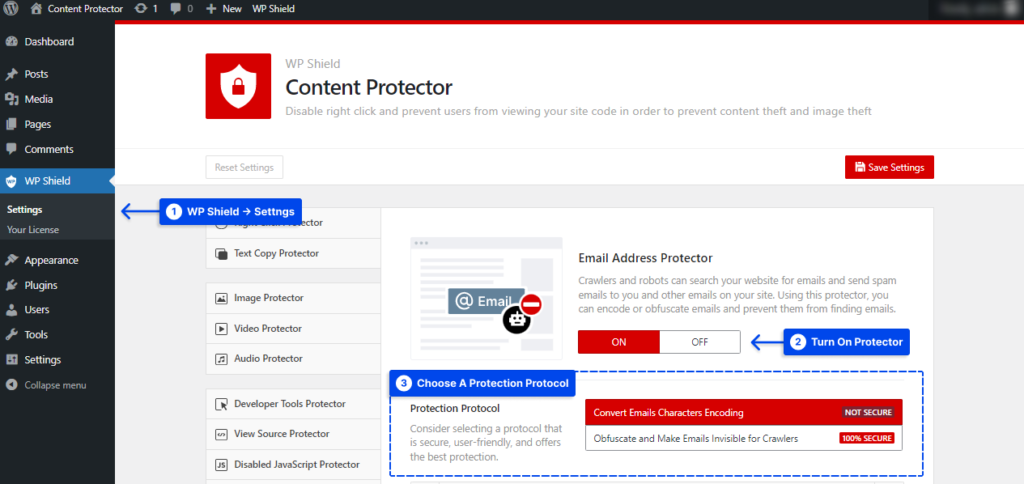 Note: This option doesn't have any impact on how the email address looks on your website, and the protocol only changes the email address on the source code.
How to Encode Email Address Characters?
You can choose to Convert Emails Characters Encoding on Protection Protocol. The email address will be encoded in the source code so bots and crawlers can't find it.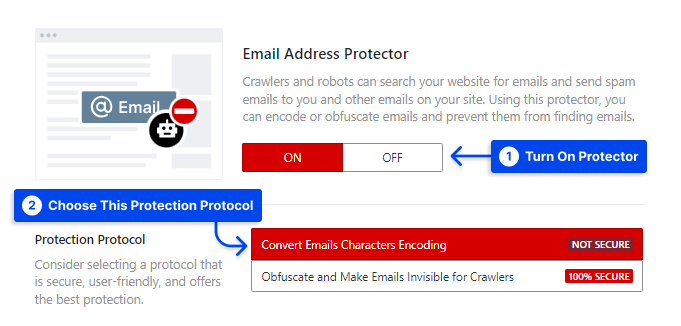 For example, with this option enabled, this is what you see on your website:

But this is what is available on your website's source code:

This protection method does not provide the highest level of security since some scraping bots are intelligent enough to detect and bypass this. We recommend the second method, which provides a level of security that almost no scrapping bot can bypass.
How to Obfuscate the Email Address From Crawlers?
You can misdirect the bots from the email address and hide it from the bots by choosing Obfuscate and Make Emails Invisible for Crawlers as your Protection Protocol. It's the most secure and advanced protection method to protect email addresses from scrapping bots.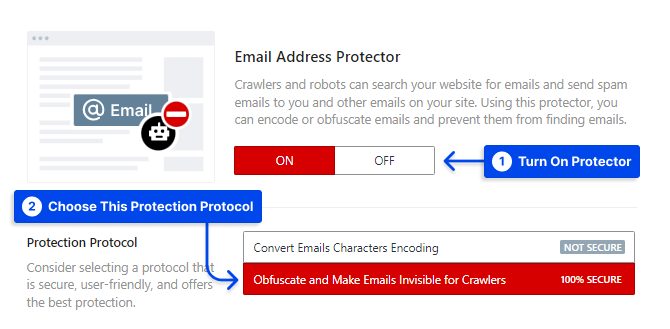 For example, with this option enabled, the email addresses are showing as normal for users:

You can see what an email looks like on the source code for scrappers and bot with this option: