Do you want to protect your images from thieves? Did you try every plugin in the market and fail? Well, you are in the right place.
WP Shield Content Protector can secure your website's images in every way possible. You can ensure that all your content is safe and that no one can use it without your permission.
Why Do You Need to Protect Your Website's Images?
Image thief is one of the biggest concerns of website owners. Many images get copied every day without any credit to the owner.
Finding a way to secure your images is vital so nobody, even advanced users, can't use your images without your approval.
How to Protect a Website's Images From Being Downloaded?
You can use the Content Protector Image Protector option. After installing the Content Protector plugin, go to WP Shield → Content Protector → Image Protector and turn on Images Theft Protector.
Image protection gives you some options that you can enable:
Disable Right Click On Images: Enabling this option, no one can save your images.
Disable Drag and Drop on Images: Drag and drop is one of the users' methods to save images; with this option enabled, you make sure they cant do it.
Remove Anchor Link Around Images: Removes the link to the full version of images from around of images to make sure users can not find your images link.
Hotlink Protection for Images: Users might use your image link to load it directly to their site; this option prevents that.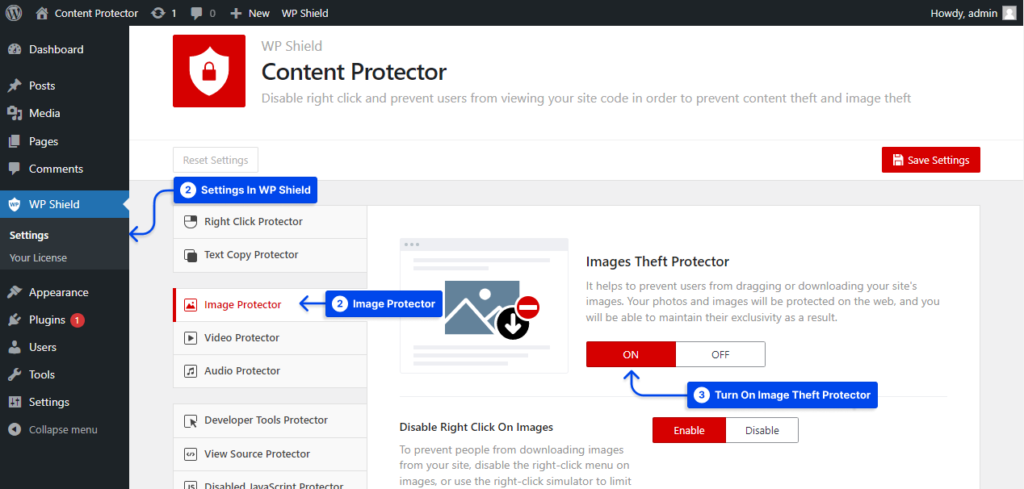 How to Disable the Right-click on Images To Prevent Downloading?
The right-click is one of the most common ways to save images. You can turn this option on WP Shield → Content Protector → Image Protector → Disable Right Click On Images.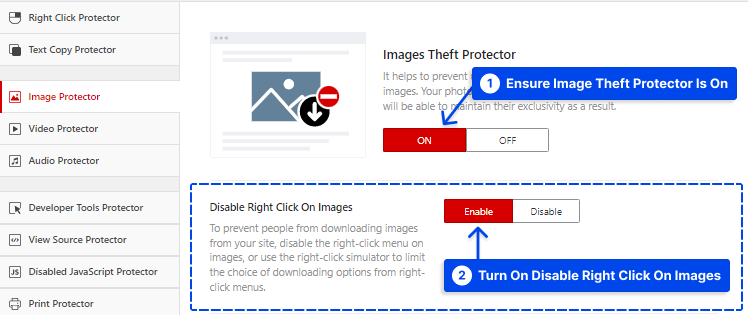 Note: Disabling the right click might not be the most practical option to prevent users from downloading your images since it's not good for the UX.
You can use WP Shield Content Protector's unique option that personalized the right-click function and disables the download button.
You can find it in WP Shield → Content Protector → Right Click Protector and choose Limit Right Click Menu Items on Protection Protocol.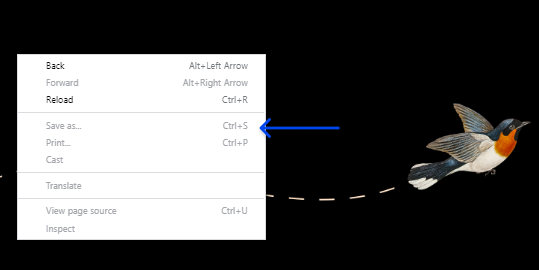 How to Disable Drag and Dropping Images For Downloading Them?
Simply turn on Disable Drag and Drop on Images in the image protector; so no one can use drag and drop to save or use your images.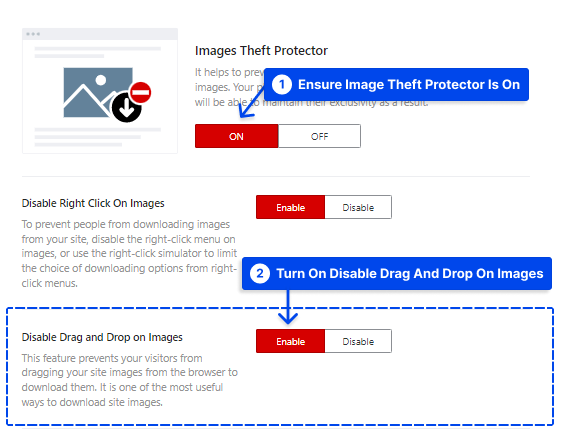 How to Remove The Link to the Full Image Size?
Many themes add a link to the full-sized version of the image or its lightbox around the photos; this option ensures no link to the image is available.
Ensure the Image Thief Protector is on, then enable Remove Anchor Link Around Images. This option will remove any links around the image that might take users to the image's full-sized version.
How to Prevent Website Images From Loading on Another Website?
Some users might try to use your image's link to directly load our image on their website. If you enable this option, your photo won't load on any other website rather than yours.
If you want to disable images being loaded on other websites via its link, turn on Hotlink Protection for Images in the image protector.